Do you bake for your dogs? or do you prefer to buy a dog cookies at your favorite pet supply shop?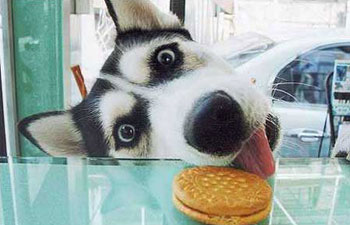 Photo grabbed at http://www.slowtravtours.com/planning/slow_pets.htm
My dogs loves eating dog biscuits so I tried to search some recipes on line, and luckily I was able to get a handful of delicious treats at
http://www.bullwrinkle.com/Assets/Recipes/Recipes.htm
, I am supposed to post a picture of my finish product, however I do not have a camera, and believe it or not I do not have a mobile phone as well, so as much as I wanted to post some of my candid shots, I can't! hehehe.
Anyway, I decided to share with you the first cookie that I was able to bake for my dogs, and it's really delicious because I tasted it myself, shhhh that's supposed to be a secret. :) If your dog loves to eat chicken liver, then you MUST try this. Your dog will lick you like there is no tomorrow, after he tasted this homemade treat.
Ingredients
2 cups Flour
3 tbs. Vegetable oil
1 cup wheat germ or cormeal if wheat allergies are a problem
1 egg, lightly beaten
1/2 cup chicken broth
2 tsp. parsley
1 cup cooked chicken liver, chopped
Combine flour and wheat germ. In separate bowl, beat egg with oil, then add broth & parsley, mix well. Add the dry ingredients to bowl a little at a time, stirring well. Fold in chicken livers and mix well. Dough will be firm. Turn dough out on lightly floured surface and knead briefly. Roll out 1/2" thick and cut into shapes. Place on greased cookie sheet 1" apart. Bake at 400F for 15 minutes or until firm. Store in refrigerator.
Grabbed from http://samuraishonan.blogspot.com/2011/02/episode-44-oden-special-food-treat.html
Dog Cookies with Chicken Broth
2 cups whole wheat flour
2/3 cup yellow cornmeal
1/2 cup sunflower seeds -- shelled
2 tablespoons corn oil
1/2 cup chicken broth
2 eggs
1/4 cup low-fat milk
1 egg -- beaten
Heat oven to 350 degrees. In a large bowl, mix together flour, cornmeal and seeds. Add oil, broth and egg mixture. The dough should be firm. Let sit 15-20 minutes. On a lightly floured surface, roll out dough 1/4 inch thick. Cut into shapes and brush with beaten egg. Bake for 25-35 minutes, until golden brown. Remove and cool. Store in airtight container.
Grabbed from http://nancysrecipes.wordpress.com/2008/10/31/happy-halloween-treats-for-the-canine-crowd/
Bacon Bits for Dogs
6 slices cooked bacon, crumbled
4 eggs, well beaten
1/8 cup bacon fat
1 cup water
1/2 cup non-fat dry milk powder
2 cup graham flour
2 cup wheat germ
1/2 cup cornmeal
Mix ingredients with a strong spoon; drop heaping tablespoonfuls onto a greased baking sheet. Bake in a 350 oven for 15 minutes. Turn off oven and leave cookies on baking sheet in the oven overnight to dry out. Yield: about 4 dozen dog cookies.
Grabbed from http://www.pamperedpetsonline.in/charge-dog-biscuits/
Bad Breath Remover
2 cups brown rice flour
1 Tablespoon activated charcoal (find this at drugstores, not the briquets!)
3 Tablespoons canola oil
1 egg
1/2 cup chopped fresh mint
1/2 cup chopped fresh parsley
2/3 cup lowfat milk
Preheat oven to 400F. Lightly oil a cookie sheet. Combine flour and charcoal. Add all the other ingredients.Drop teaspoonfulls on oiled sheet, about 1 inch apart. Bake 15-20 minutes. Store in airtight container in the refrigerator.
The recipe that you are about to see now is recommended for warm weather because unlike the other cookies, this one is a refrigerated cookies for dogs, my dogs loves this one, I swear! They can finish 24 pieces in one sitting, hahaha.
Icy Paws
2 cartons plain or vanilla yogurt (32 oz each)
1 small can tuna in water (8oz.)
2 tsp. garlic power
24 3 oz. plastic cups (not paper)
Open yogurt, if they are full to the top use a spoon & scoop out one cup (these will be frozen as plain yogurt). Put half of the can of tuna in each yogurt container add the garlic power (1 tsp. in each) & stir thoroughly.
Use a spoon & scoop the mixture into the cups. Place on a tray & freeze overnight.
Makes about 24 treats.
Frozen Doggie Yums
1 cup water
1 cube chicken or beef boillion (dog's favorite)
4 small pieces of chicken or beef
Disolve boillion in water and tear meat into smaller pieces about 1/2 inch squares. Freeze for about 12 hours or until solid. Great for hot days!! My dog loves these!!!
Frozen Peanut Butter Yogurt Treats
1-32oz. container of vanilla yogurt
1 cup of peanut butter
1. Put the paenut butter in a microwave safe dish and microwave until melted.
2. Mix the yogurt and the melted peanut butter in a bowl.
3. Pour mixture into cupcake papers and freeze.
Do you want to share your pasta with your dog? Why don't you create a dog pasta instead?
Doggie Pasta
3 1/2 cups whole wheat flour
8 ounces beef liver
3 whole egg
1 tablespoon olive oil
8 tablespoons butter -- optional
Puree beef liver in blender until smooth. Add eggs and blend for about a minute.Put flour in a large mixing bowl and make a well in the center of the flour.
Pour liver and egg mixture into well along with olive oil. Mix well until thoroughly combined.
Turn dough out on floured board and knead well for at least 5 minutes or until smooth and shiny.
Wrap dough in plastic wrap and let dough rest in refrigerator for at least 1 hour, no longer than 2 days.
When ready to make pasta, divide dough into 8 equal portions, approximately 4 oz. each.
Form into desired pasta shapes with hands or use pasta machine.
Cook in rapidly boiling water until al dente. For thin noodles, approximately 10 minutes, for thicker noodles a few minutes longer.
Drain noodles and toss with 1 tablespoon butter per serving, if desired.
Instead of butter, try tossing noodles with 1 tablespoon olive oil, canola oil or other oil high in omega-3 and omega-6 fatty acids.
Puppy Pretzels
1 teaspoon brown sugar
2 teaspoons active dry yeast
2/3 cup water
3/4 cup whole wheat flour
3 tablespoons soy flour, low fat
1/4 cup nonfat dry milk
1 tablespoon dried liver powder
1 tablespoon bone meal flour
3/4 teaspoon salt
1 egg -- beaten (1/2 in recipe, 1/2 in glaze)
2 tablespoons cooking oil
3 tablespoons wheat germ
Dissolve yeast and sugar in warm water.
Combine dry ingredients. Add half of the beaten egg, oil and yeast-water mixture. Mix well.
Knead on a well floured board until dough is firm. Place in oiled bowl, cover and let rise until double in bulk.
Shape into pretzels and place on greased cookie sheet. Bake in preheated 375 degree oven for 15 minutes. Remove and brush with beaten egg and sprinkle with wheat germ. Return to oven and bake at 300 degrees for about 15 minutes until nicely browned and quite firm.
Note: You may omit liver powder and bone meal flour if you have difficulty locating them.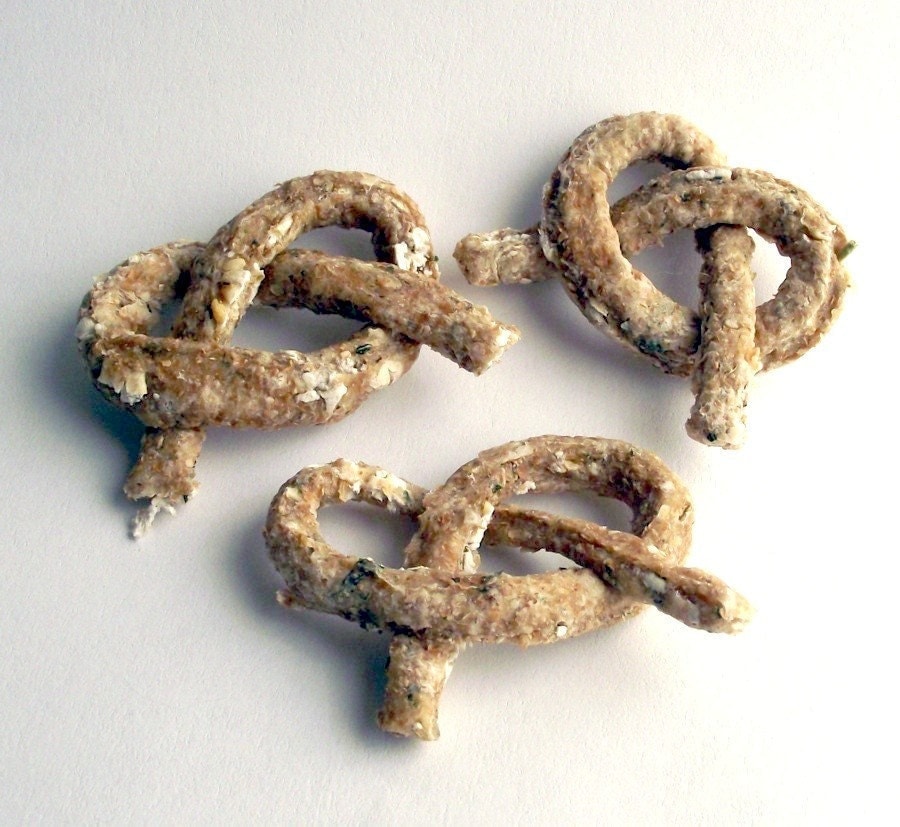 Soft Banana Strips
Ingredients
1 egg
1c fast-cook oats
1/2 banana
1/3c milk
1/2c all-purpose flour
1/8c rice
Squash bananas, and beat the egg. then spread evenly on a plate.
Next, heat in microwave for 3 and 1/2 minutes. when done, let them cool.
Then cut and serve.
Birthday Cake for Pups
1 1/2 cups all-purpose flour
1 1/2 teaspoons baking powder
1/2 cup soft butter
1/2 cup corn oil
1 jar baby food, meat, beef, strained
4 eggs
2 strips beef jerky -- (2 to 3)
Preheat oven to 325 degrees. Grease and flour an 8x5x3 inch loaf pan. Cream butter until smooth. Add corn oil, baby food, and eggs. Mix until smooth.
Mix dry ingredients into beef mixture until batter is smooth. Crumble beef jerky and fold into batter. Pour batter into loaf pan. Bake 1 hour and 10 minutes. cool on wire rack 15 minutes. Ice with plain yogurt or cottage cheese.
Store uneaten cake in refrigerator.
Grabbed from http://www.neatorama.com/2011/02/03/birthday-cakes-for-dogs/
Party Pupcakes
1 large apple
1 1/2 cups wheat flour
1/4 cup oatmeal
2 teaspoons baking powder
1/2 teaspoon baking soda
1/2 cup plain yogurt
1/2 cup water
1/4 cup vegetable oil
2 tablespoons honey 2 eggs
1 cup grated cheddar cheese
For the Frosting
8 oz Neufchatel Cheese (lowfat cream cheese)
2 tablespoons plain yogurt
2 tablespoons honey
2-3 tablespoons flour
Directions:
Preheat oven to 400 ° F (200 ° C). Grease muffin tins.
Core, slice and mince the apple (use a food processor if you have one). Set aside. In a large bowl, mix together flour, oatmeal, baking powder, and baking soda. In a medium bowl, blend together the yogurt, water, oil, honey, and eggs, then stir in the apple and cheese. Add to the flour mixture and stir until mixed.
Spoon into the muffin tins, filling each cup about three-quarters full. Bake for about 20 minutes or until a toothpick inserted in the center of a muffin comes out clean. Let rest in the muffin tins for a few minutes, then remove and set aside to cool.
For the frosting, combine the Neufchatel cheese (at room temperature), honey, and yogurt until smooth. Add enough flour to thicken the frosting to a good spreading consistency. Frost the pupcakes and you're ready for a doggone good party!
Makes 16-18 pupcakes. If you prefer a single-layer cake, spoon the batter into a sheet pan and bake for an extra 15-20 minutes (or until a toothpick inserted in the center of the cake comes out clean). Let the cake cool, then frost and decorate.
Grabbed from http://poisonedpets.com/2012/02/02/sugarless-gum-with-xylitol-the-toxic-bubble-poised-to-pop-on-your-pet-i-said-pop-not-poop/funny-dog-pictures-delishush-pupcakes-2/
Though there are a lot of stores where you can buy treats for your dogs, it would still be economical if you will bake it yourself, you'll never know if this will be the start of a new episode in your life.
You can give these treats as gifts during special occasions, just make sure that you will give it to someone who owns a dog. :)
Most of the photos were taken from Photo sharing sites, so I believe I no longer need to mention the name of the source. For the other pictures, I have included the source on the caption space.
If you have any question regarding this post, kindly email me at akvicencio@gmail.com.