Easter is just around the corner, and there will be a lot of Easter bunnies and Easter eggs again. When I was young, my uncle always gives us hard boiled eggs that we can paint, and the best egg will win a price. Now that I am already an adult, I want my dogs to enjoy egg hunting, that's why I created my own version of it.
Materials:
1. Food ( bacon, chicken, dog treats, carrots, or anything that your dog loves to eat)
2. Plastic eggs with small holes at both end.
3. Dog leash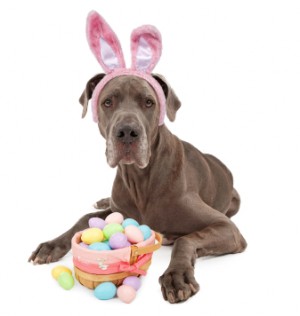 image source: http://www.rumneyanimalhospital.com
Instructions.
1. Get a plastic egg, and place your choice of food in it. A strip of bacon or a slice of carrot is good enough for a single egg.
2. (Indoor)Scatter the eggs inside your house, under the bed, under the table, make sure that your dog can reach it.
3. (outdoor) Scatter the eggs in your front lawn.
4. Ask your dog to find the eggs, you will need to follow his lead, and open the plastic egg once he was able to find one, of course you need to give him the treat inside the egg. Your dog will definitely enjoy it more, if he is not the only one who is searching for the eggs, so make sure to invite your dog's best friend during your egg hunting activity.
Benefits of this activity.
1. It will serve as a bonding time between you and your dog
2. Your dog can enhance his sense of smell.
3. It can be a social activity for your dog and his friends.
Additional Easter activity for your canine friends.
1. Easter Dog Fashion show, where dogs can strut their creative bunny ears.
2. Make a huge cut out of egg, and paint it with the help of your dog. Use a non-toxic paint and ask your dog to dip his paw on it, then let him step on the egg. After this activity, you will realize that you and your dog can make a great work of art together.
If you have other ways of enjoying Easter with your dogs, you can drop me a message
here
.
HAPPY EASTER EVERYONE!