On April 8
th
, the ASPCA will be celebrating
National Dog Fighting Awareness Day
by hosting a
Google+ Hangout
with national experts to discuss the underground world of dog fighting. The panel will be moderated by ABC News anchor Dan Harris, and the goal will be to raise awareness about dog fighting brutality, including little-known truths about the blood sport and its continuing prevalence in America.
In addition to the
Google+ Hangout
, they'll be doing live social media Q&As across Facebook, Twitter and Google+ in which our experts will be answering user questions about dog fighting with hashtag #NDFAD. They will also premiere a never-before-seen short documentary with undercover footage of dog fights and the rescue activity at dog fighting raids.
Did you know that Dog Fighting is divided into 3 categories? Most law enforcement experts divide dog fight activity into three categories: street fighting, hobbyist fighting and professional activity:
"Street"
fighters engage in dog fights that are informal street corner, back alley and playground activities. Stripped of the rules and formality of the traditional pit fight, these are spontaneous events triggered by insults, turf invasions or the simple taunt, "My dog can kill yours." Many people who participate in these fights lack even a semblance of respect for the animals, often starving and beating them to encourage aggressive behavior. Many of the dogs are bred to be a threat not only to other dogs, but to people as well—with tragic consequences.
"Street" fights are often associated with gang activities. The fights may be conducted with money, drugs or bragging rights as the primary payoff. There is often no attempt to care for animals injured in the fight and police or animal control officers frequently encounter dead or dying animals in the aftermath of such fights. This activity is very difficult to respond to unless it is reported immediately. Professional fighters and hobbyists decry the techniques and results of these newcomers to the blood sport.
"Hobbyist"
fighters are more organized, with one or more dogs participating in several organized fights a year as a sideline for both entertainment and to attempt to supplement income. They pay more attention to care and breeding of their dogs and are more likely to travel across state lines for events.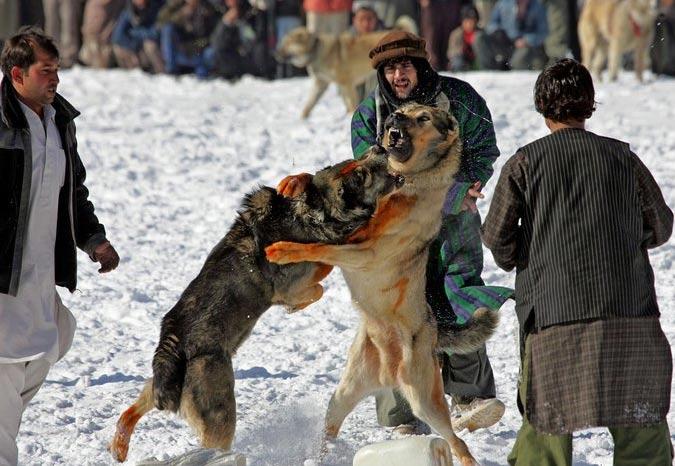 "Professional"
dogfighters often have large numbers of animals (as many as 50 or more) and earn money from breeding, selling and fighting dogs at a central location and on the road. They often pay particular attention to promoting established winning bloodlines and to long-term conditioning of animals. They regularly dispose of animals that are not successful fighters or breeders using a variety of methods, including shooting and blunt force trauma. Unlike professional dogfighters of the past, both professionals and hobbyists of today may dispose of dogs that are too human-aggressive for the pit by selling them to "street" fighters or others who are simply looking for an aggressive dog—thus contributing to the dog bite problem.
In recent years, a fourth category of dogfighters seems to have emerged, with some wealthier individuals from the sports and entertainment worlds allegedly using their financial resources to promote professional dog fighting enterprises, which essentially use the philosophy and training techniques usually associated with street fighting.
source: wikipedia
So what can communities do to combat this blood thirsty crime?
The first step in combating dog fighting is for individuals to alert the authorities to any suspected or actual dog fighting activities in their area—identification of the problem is the first step to a solution.
In addition, the ASPCA recommends the formation of local or state task forces to address dog fighting. These groups should include members from all the major stakeholders in that community—law enforcement, prosecutors, animal control, animal welfare groups, veterinarians, public health officials, housing authorities, the neighborhood watch and others. The group should identify the nature of the problems in the area, the laws that could be applied to these problems, and the resources that are available. Dog fighting is most effectively addressed by a collaborative approach to this heinous crime.
What can ordinary citizens do to stop this crime? The enforcement of animal cruelty laws begins with the individual. If you see something, please say something—notify your local police and/or humane law enforcement of any suspicious activities that suggest dog fighting is taking place in your community.
DISCLAIMER: The above information was provided by:
Follow me on Facebook, Twitter and Pinterest